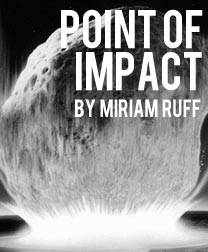 $3.49
Format: PDF | Pages: 26
"Point of Impact" is a collection of poems, each of which contains a thought or moment that impacts our minds or our souls in a strong or curious way.
To read a sample, click here.
To purchase this collection, please click on the green "Add to Cart" button to the left.
Customer Review:
I enjoyed this brief collection of poetry by Miriam Ruff, especially Guilt with its painful expression of survivor guilt, provoking images of our recent terror attacks as well as haunting evocative memories of 9-11. This sadness continues in my most favorite one, Spaces, another aching memorial to lost lives! The author has a wonderful gift of empathy that permeates her poetry, including lovely word pictures such as "adding salty tears to the waves" in Debris. Another favorite is Lifetimes with its juxtaposition of butterflies and life, and the repetitive "brief, bright flash" . I hope that she will offer us more of these brief, bright flashes in future poetry!
— Sherrill S Cannon, Award-Winning Author